I received my Baby Go! last week and have been playing with it and thinking on its uses, strengths and weaknesses. I wanted to be able to give you all a really honest review. I am really grateful to AccuQuilt for letting me have one, and to give one away!, but my review is based more on if I'd bought it, and what I would tell my friends about it.
This is especially true since I can give you some insights on it from the point of view of someone who has chronic pain, and often am weak and have difficulty with the cutting aspect of quilting.
So my thoughts in general are positive. I'll give all my highlights first then do another section on some of the drawbacks.
I received the 2 1/2" strip die, the 3 size of hexagon die, and Alex Anderson's Bountiful Baskets die.
It is super easy to use, both my 7 year old and I could crank the handle with 4 layers of fabric on it.
It only weighs about 11 lbs, so it's not too heavy to move around.
It folds up nice and small so doesn't take a lot of space to store the machine itself.
For applique, especially fusible, and geometric shapes like hexagons or apple cores, it is a massive time saver when it comes to cutting. If you really like doing any of these type of quilts you will use this a lot.
I was able to use a charm pack and just cut the larger hexagon (5" across). I cut out all 42 hexies in about 10-15 minutes. No back pain. And they all were exactly the same.
If they had a 4 1/2"-5" tumbler die I'd be in heaven. The 3 1/2" tumbler wastes too much of a charm pack for me to use it.
It does cut the 2 1/2" strips quickly as well.
The mats are thick, thicker then a rotary cutting mat, so will probably last a good long time, so long as you follow the instructions on rotating them when you use them and store them properly.
The dies are well hidden in the foam board so no worries about kiddos, or klutzy me, getting cut accidentally.
Theoretically would could use the strip cutter to cut squares by re-cutting the strips. I didn't try this.
You can put paper through the machine, and in fact that is a step for troubleshooting, so you could make accurate English paper piecing pieces.
It is easy to use the Baby Go! sitting down at the table, or standing up.
Drawbacks
No matter how careful you are it wastes fabric, especially with strips etc, which I hate.
I can use my rotary cutter and get an extra strip or two out of a yard of fabric then I could using the 2 1/2" strip cutter. Also the strips can be slightly wonky, especially in the middle, depending on how you folded the fabric, just like with a rotary cutter.
The dies and mats are fairly large and take up a good deal of space. They are also pricey if you're not going to use it several times. The regular Go! has way more dies available, and in bigger sizes, which I think would be far more useful. I find that the limited number, and size of dies available for the Baby Go! to be a drawback. More will be add all the time though. The Baby Go! will not have anything bigger then the 5" rag die though. So if you like larger patches you will need the Go! This is sort of a personal thing. Look at what's available and what and how you quilt.
You can't use it to trim or square up blocks. Ok you
could
but it would be very difficult to be accurate and make sure you trimmed it properly.
You have to cut, fold or rip your fabric to fit it to the machine. The bed of the machine is only about 6" wide. Once I'm already cutting with the rotary cutter I don't want to switch back to the machine. And again you lose fabric making sure your dies are fully covered, about 1/4-1/2" on either side.
So what's the final verdict?
The Baby Go! would be a neat addition to your tools list, it will save you tons of time and back ache, especially with geometric and applique shapes, but you are still going to being using your rotary cutter and mat, just like we still use scissors.
If you can afford it go with the regular Accuquilt Go! just based on the number, size and types of dies available.
Stay tuned for a tutorial or two coming up using the Baby Go! and a giveaway, where you could win a Baby Go! and your choice of three dies.
And remember to sign up for the Accuquilt newsletter, where you get 22 free quilt patterns just for signing up! You also get a discount code that can be used when ordering.
Disclosure: I get points for every person who signs up and with enough points can get a free die. I appreciate it thanks!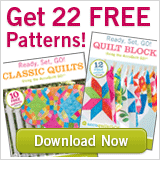 There is also the
Bust My Stash Photo Challenge
going on Facebook
.
While you're there make sure to friend me!
Have you stared at your fabric stash and wished that you had the time and energy to cut up your fabric for future projects? AccuQuilt has the answer! Click on the following link to participate: http://on.fb.me/qtyUoq or go to AccuQuilt's Facebook page and click "Like". Then go to the 'Bust My Stash' tab under their profile picture and upload a picture of your fabric stash. Submit your photo by Friday, July 22nd and you'll be eligible to win a GO! Mix & Match 12" Starter Set. The photo with the most votes by July 31st wins! Photos will be voted on by viewers and fans of the AccuQuilt Facebook page using the following criteria: relevance, creativity, and originality. Share with your friends during the voting period to increase your odds of winning!